How to lift & lower a VW bus.
When People find out about my Volkswagen bus habit, the most common thing that I hear, is "oh I had one of those" or "Aren't those easy ? Easy to work on ?". The second might be true, like keeping them running — thanks to these guys. On the flip, Volkswagen Bus suspension is challenging, compared to most cars, the VW bus is difficult to lift & lower. The 1949-67 bus is especially tough, The 1968-79 bus is easier, but still possibly poop. Hopefully this page will eventually form a coherent thought.
Nate @ Wagenswest
This page is dedicated to helping people learn how to lift & lower a VW bus, "correctly".
This page discuses both stock and custom bus suspension parts. Many of the custom parts were designed right here at Wagenswest. Over the years many of these parts have become standard designs, used by VW Bus enthusiasts world wide.
Breaking up the years, by major suspension changes.
Seven major chassis and suspension design changes took place, over the 30 years that Volkswagen Produced buses in Germany. Subsequently VW buses produced in other country's like Brazil. Use the same part design and mostly same manufacturing process, but not during the same time periods. For instance a 1975 Volkswagen bus from Brazil would have almost all the same suspension parts as a bus from Germany in 1967. And the only differences are subtle, like metallurgy and tooling standards .
1949-54 Volkswagen bus suspension, lift & lower
The 1949-54 Bus, is commonly referred to as a "Barn door", this is not talking about the side cargo doors, OK. This name is in reference to the engine lid, it's big – like a barn.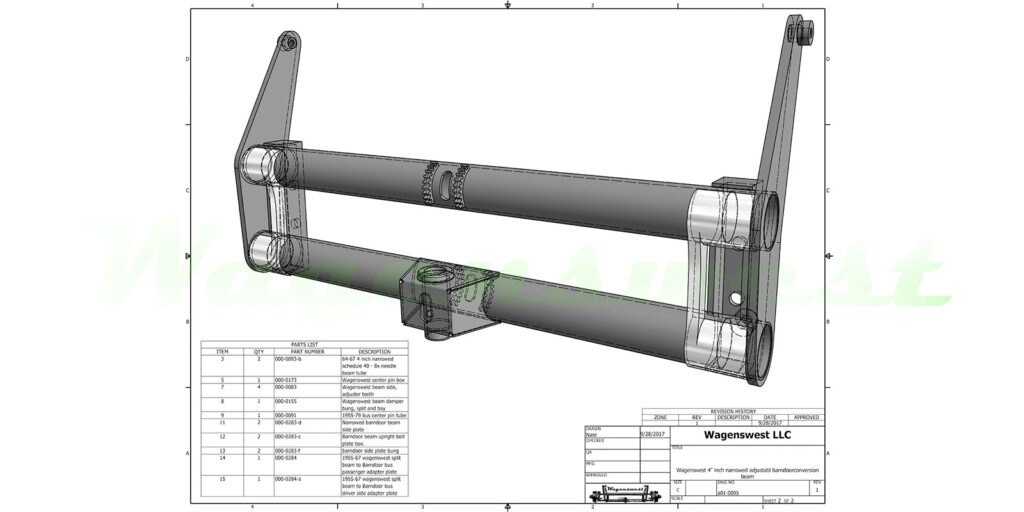 Kubelwagen, Schwimmwagen, 356. If this is were your mind goes when you think of barndoor suspension, you are on the right track. RGB's and factory lift spindles, just mildly tougher than beetle suspension. Barndoor buses started life as a commercialized sport Kubelwagen. It wasn't until 1955 when the VW Bus finally got its very own version of those three. The Barndoor days of the VW bus were raw, the bus was really close to it roots, and the suspension was extra funky. By comparing these early suspensions, You can literally see how Volkswagen combined these cars to make the bus.
Modifying 1949-55 bus front suspension
Its only done one way at Wagenswest. We completely remove it, and retro fit with later 1955-67 bus suspension parts. Like the above photo of a "conversion beam" ,utilizing all post 1955 bus front axle parts, this conversion beam bolts into the 1949-54 chassis. And then all the parts from a 1955-67 bus front axle will bolt right up, and all the benefits that came with that.
Modifying 1949-55 bus rear suspension
When lowering the rear suspension on a Barn door bus. It is most common practice, to install a type one bug gearbox either "IRS or a long, swing axle" with the appropriate axles and brakes either IRS kit or spring plates .
1955-63 Volkswagen bus suspension, lift & lower.
1955, big changes came to the VW bus and its suspension. The weak links in the Frankenstein had become known. Volkswagen completely redesigned the bus suspension, giving it unique parts while fixing many of the mechanical issues. And the bus really started to shine. Just in time for the 1960's.
1964-67 Volkswagen bus suspension, lift & lower
Modifying 1964-67 bus front suspension
The absolute best front axle ever built by Volkswagen was from 1965 to 1967. It was German engineering and manufacturing at its best, all around cool. With standardized Timken wheel bearings, hard as space junk needle bearings and babbot/tefflon king pin bushings. These beams literally don't wear out, unless you don't grease them. They do have a weak spot, they tend to bend lower driver or passenger trailing arms, in accidents. Because VW hacked a sway bay onto the arm and reduced the actual arm material. So keep an eye out for bent lower 64-67 trailing arms, "it happens on all years at some level".
1968-70 Volkswagen bus suspension, lift & lower
In 1968, the VW bus had a major suspension re-design by Volkswagen. The front end switched from link pins to ball joints, this alone must have saved them millions. The 1964-67 link pin front axle is the most complicated bus front-end (to manufacture). The rear end switched to IRS ( Independent Rear Suspension) this too was very different from the reduction gear box (1949-67). And nothing like the type one beetle IRS either.
1968-70 Volkswagen bus rear suspension
How to adjust the spring plate pre-load
Indexing the rear torsion bars , that is what you need to do to adjust the rear suspension. The torsion bars need to be indexed on both inner and outer splines, to get accurate, fine adjustments. The internetwebs will tell you to to move 1 or 2 splines, you fool! That's why the back of your bus sags to one side! Instead you must remove the torsion bar completely, and rotate it a few times to find it's sweet spot. Inner and out splines are not equal (inner =44 outer =48) making fine adjustments possible.
The best way to keep track of what you are doing back there. Is with an angle finder.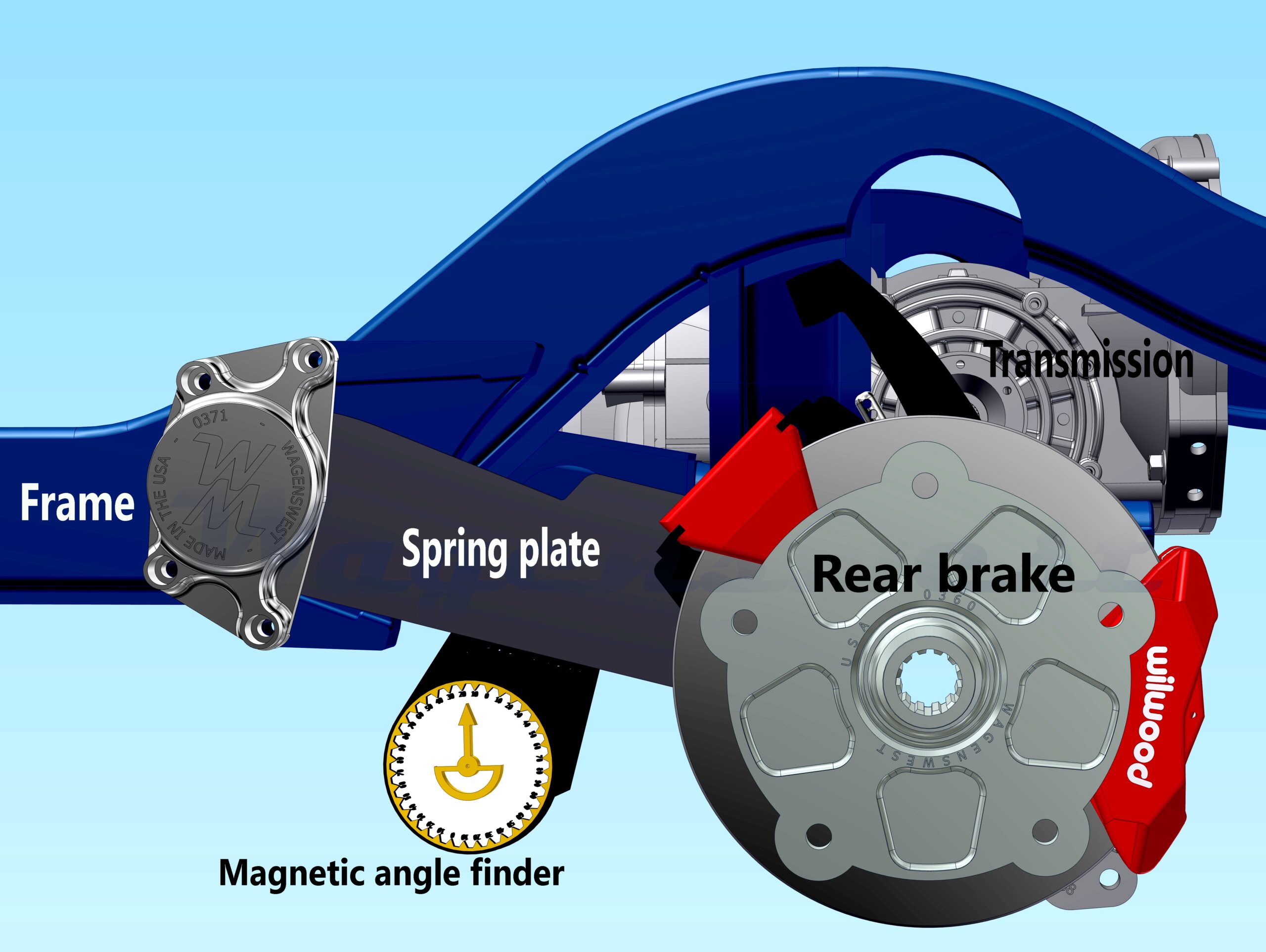 And yes, you will probably do it twice or even three times to get it just right.
Number 6 in the photo below, this is the torsion bar. You can fully rotate this bar by pulling it out – just like the photo. Rotate the bar some and put it back in, then push the spring plate back on to the splines, "both inner and outer" until you get the angle that you want. Use the angle finder to see how close you are, to your desired pre-load angle.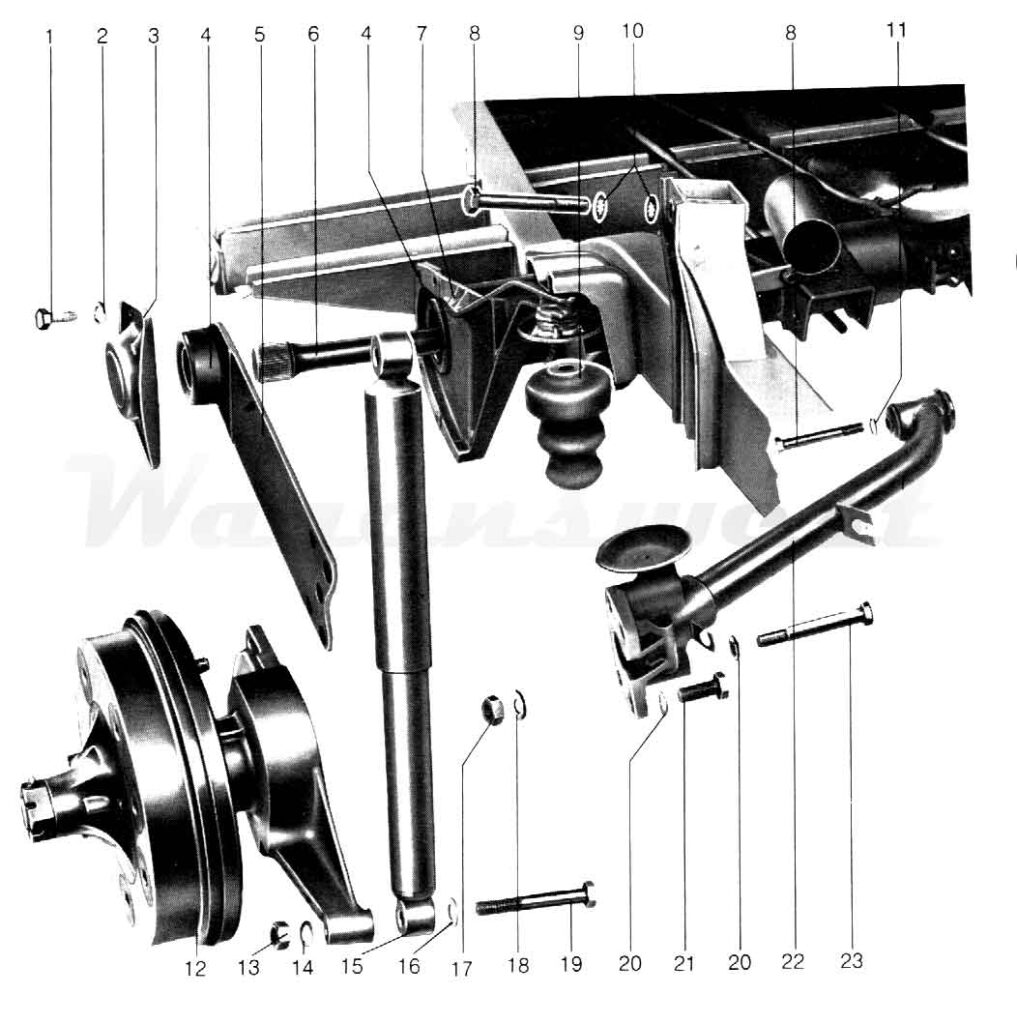 List of parts, common to lowering a VW bus.
Drop Spindles
Narrowed Beam
Offset Spring plates
Adjustable spring plates
Swing axle transmission
IRS transmission
Custom wheels
Custom tire sizes
Understanding narrowed Volkswagen bus beams.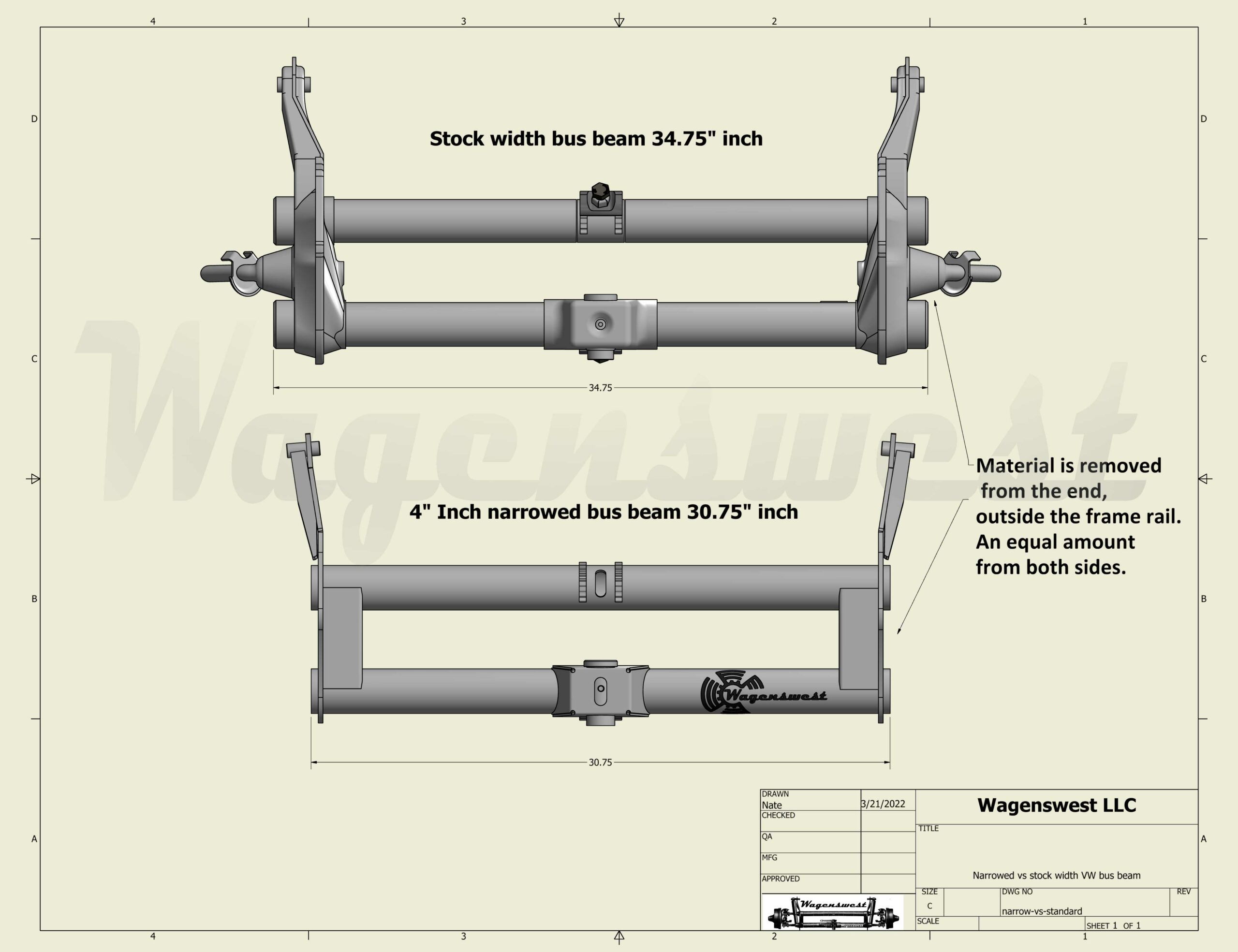 Volkswagen buses use (truck offsets) wide axles and negative offset wheels . Passenger cars (bugs) were built with narrower axle widths and wider offset wheels. And aftermarket Volkswagen wheels are built using passenger car or (bug offsets), and we want to use these aftermarket wheels. This is why we narrow beams, to compensate for the track increase.
Reasons to go narrow
After market brakes add positive offset, and a narrowed beam helps with this increased width to make the wheels tuck. Custom geometry for steering and to set the tire in the sweet spot and reduce rubbing tires. From scratch means we can change some things. Like adding torsion spring adjusters, for changing ride height. And we modify the tube geometry, to achieve better handling.
Reason to not go narrow
You don't want to slam the bus. Or you are using wheels with negative offsets. Or lifting the bus. Or you just don't fly like that.
Here is a bus guy secret. Get 5″ inch Porsche to Bus hybrid drop spindles + negative offset Porsche wheels (crabs) + stock width beam = slammed with no narrowed beam and no rubbing.